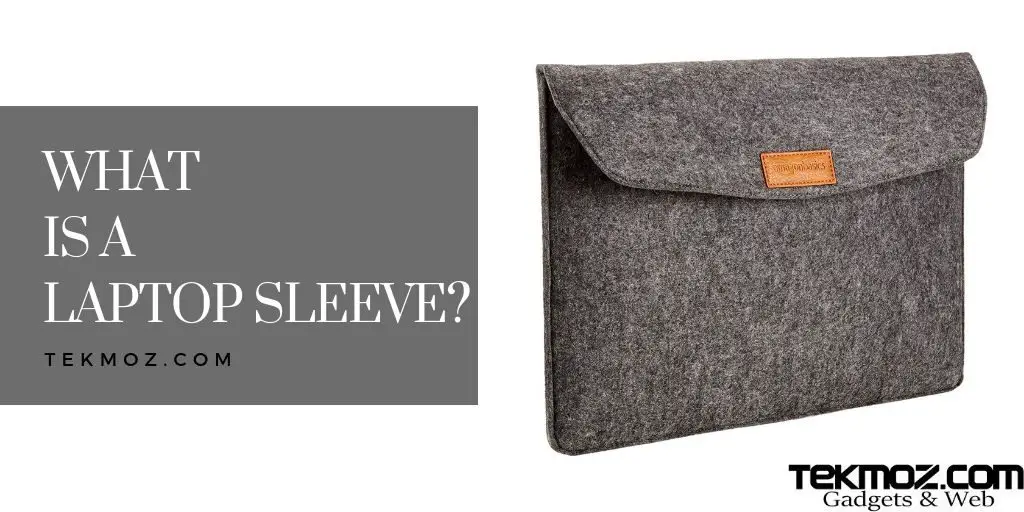 Laptops were our lifeblood for many years here at Tekmoz and we know them inside and out (literally). Laptop's are portable and this contributes to most of the damage they receive so it's wise to think about protecting them.
What is a laptop sleeve? A laptop sleeve is a protective cover much like a laptop bag but usually doesn't have handles (some do), it's more like a folder with a zip. Laptop sleeves come in a wide variety of styles and designs. By putting your laptop into a laptop sleeve and then inside your bag this offers the best protection possible. With the advancement of smart bags a laptop sleeve in some instances can be attached directly to your smart bag for easy transportation.
The vast majority of problems we've repaired here at Tekmoz with laptops are nearly always related to physical damage caused by carrying a laptop around. They get banged, they get dropped and people leave pens on the keyboard and close the lid causing the screen to smash.
So we believe that just by carrying your laptop in a bag alone is not sufficient (somebody actually accidentally drove over my bag and crushed my laptop once), to get the best chance of protecting your laptop put it into a sleeve and then into your bag.
But not all laptop sleeves are created equal.
Which Laptop Sleeve Should I Buy?
It really depends on your budget and if you need to consider how stylish you want your laptop sleeve to look, especially if you have an important business meeting.
Most laptop sleeves are either made from polyester, suede, microfiber or nylon. Most have a structure which is designed to resist against impact.
Our Top Picks For Laptop Sleeves
Here at Tekmoz we're usually more concerned about fixing laptops and other gadgets than trying to sell you something that you don't need and that is why our first choice is the AmazonBasics laptop sleeve, it has everything that you need in terms of protection, style and is light weight for portability.
The AmazonBasics laptop sleeve is one of the best selling in the world when it comes to laptop sleeves too and it's easy to see why.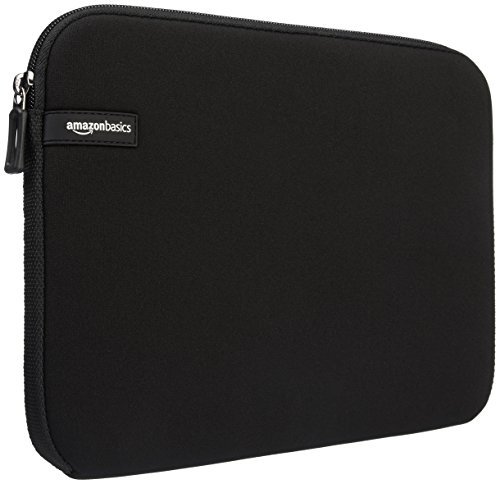 Not only does it look stylish but it also does everything that you would need and a cost of around $11 (check for the correct price) you really can't go wrong, it has style and comes in at a great price.
The size ranges from 7 inch to 17.3 inches and comes in a range of colors. There is a lot more to tell about this great sleeve but have a look for yourself and make your own mind up, hopefully you'll agree with me.
Amazon also do a felt version too which is designed for a 15.4 inch MacBook or similar sized laptop (see image below):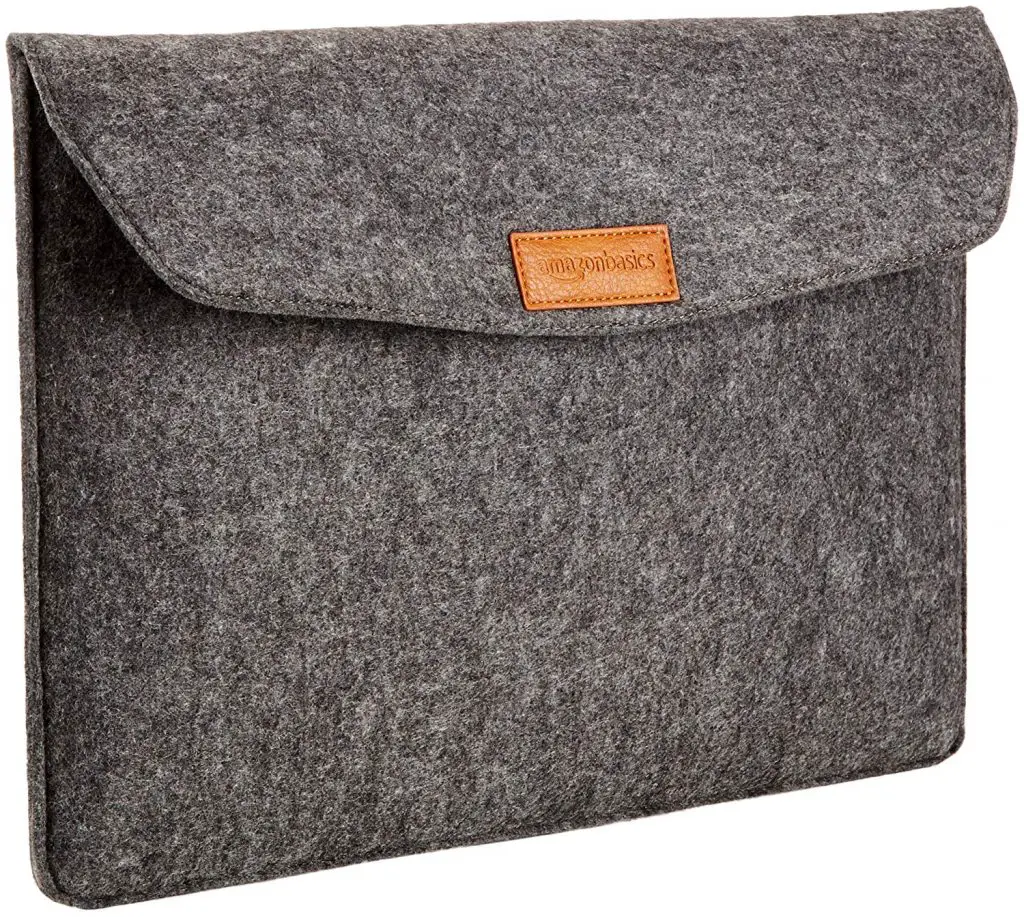 Priced a little high but with a deserved price increase due to it's fantastic styled look and sleek protection.
Stylish Laptop Sleeves
But for those with a higher budget who want to dress to to impress and walk into a high end business meeting with all the right gear then here's a few of our top picks:
Kayond Canvas Water-Resistant 13 inch Laptop sleeve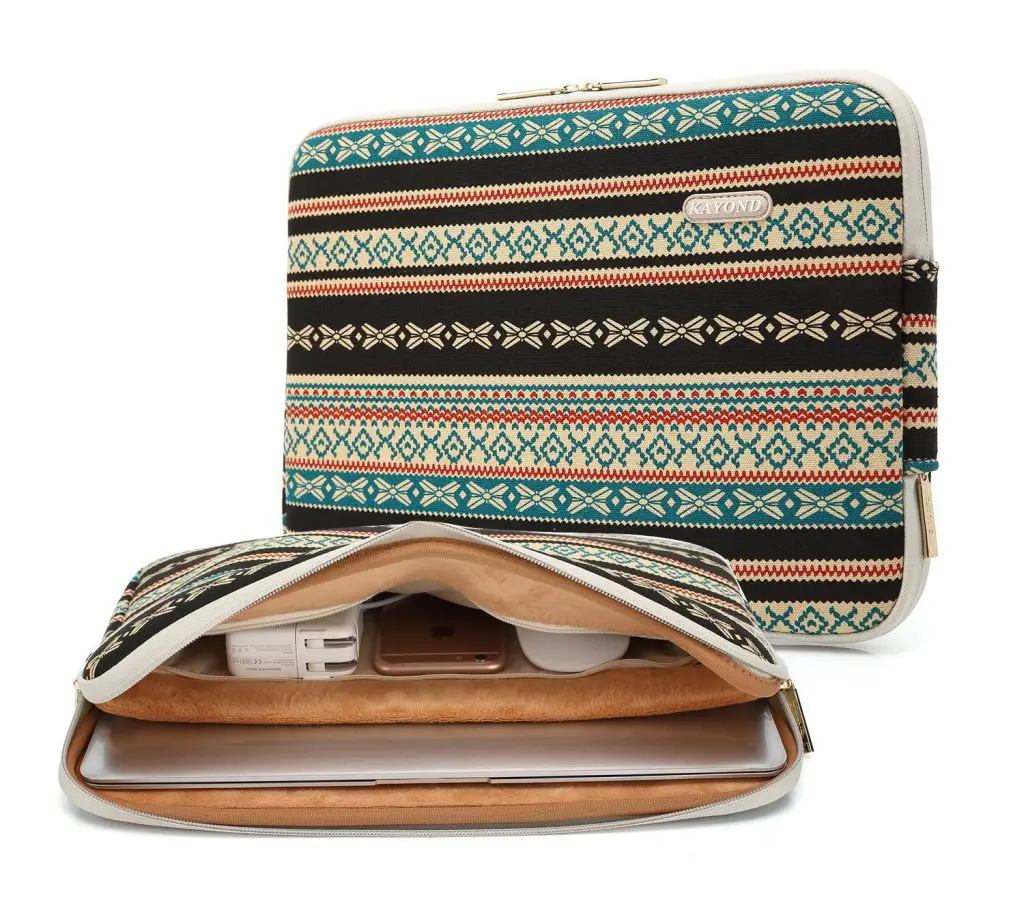 Made from a water-resistant neoprene material this 13 inch sleeve offers fantastic protection and is very light in weight at just 0.6 lb. Made primarily for the mac book this should fit any similar size laptop.
The price varies (check it here) depending upon the pattern you choose.
The interior is compartmentalised and has space for your other neccessary items. The interior is well very soft (velvety soft) and the padding is very dense making for superior protection.
People who bought this sleeve often mention that due to the corner zip this makes it really convenient to charge your laptop whilst it is in the bag.
Kate spade new york Sleeve for 13″ MacBook, 13″ Laptop – Rose Gold Glitter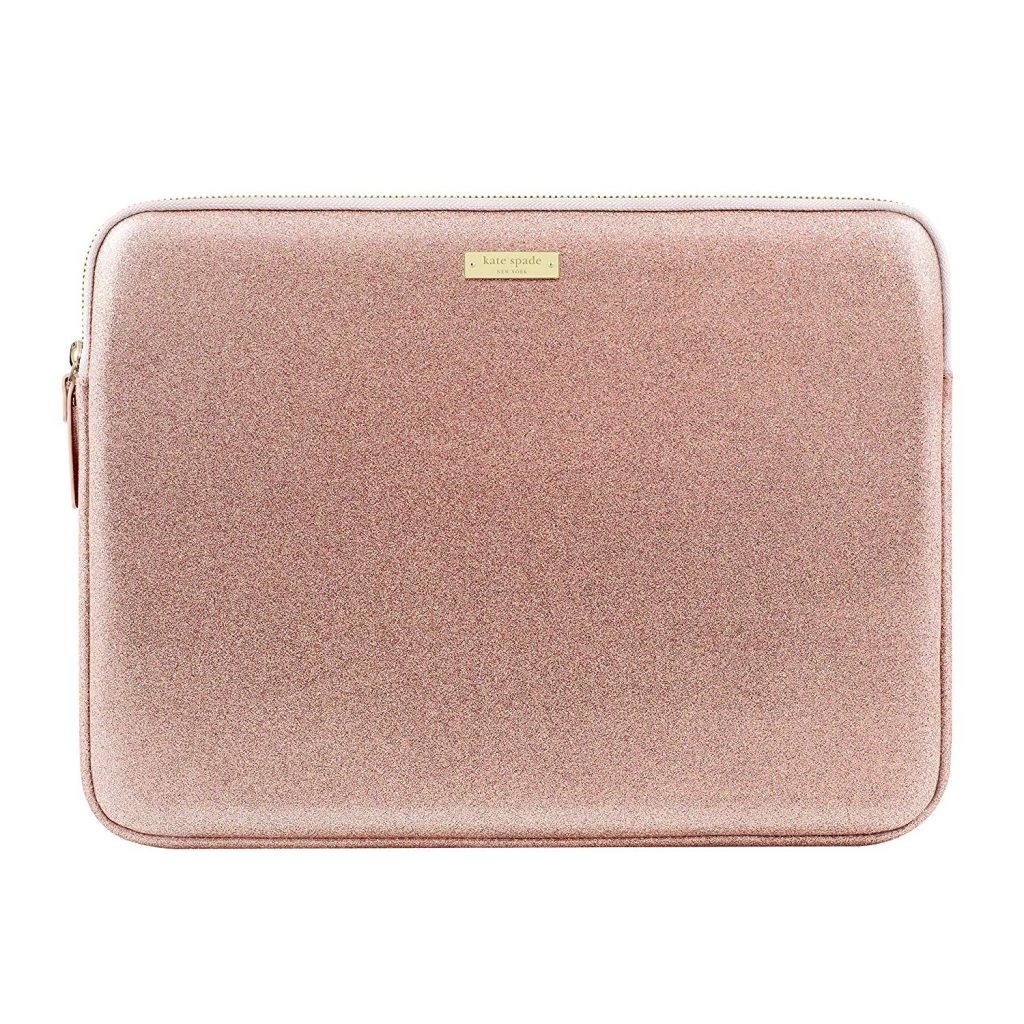 This stylish laptop sleeve from Kate Spade is available in different colors and styles (we are showing the rose gold glitter version here) and is made from VEGAN LEATHER.
It has a stylish luxe gold zipper detail to it and is designed for a 13″ MacBook or similar size laptop (or smaller).
It weighs a little more than some sleeves at 1.18 lb but is still light enough to carry easily enough without much effort.
The price is around $69 (check here for the exact price) so if you are not afraid to spend a little more (or buy a great gift) this is a great purchase.
There are many other stylish laptop sleeves available and it makes sense to pick on that is right for you, we're not here to show you a full range (that's the job of sites like Amazon and Ebay) we just want to show you that these things are out there to buy and give you an idea of what is available but please go check them out for yourself there really is a huge range of styles and designs.
Gaming Laptop Sleeves
There is no difference between a "normal" laptop sleeve and a gaming laptop sleeve except that your gaming laptop may be bigger and so you need to buy one that is suitable for the size of your laptop.
There are also a wide range of styles where the exterior design of the sleeve can add to the cool factor, a quick Google image search will give you an idea (too many to list here).
Something that you may want to consider is the position of the zip. Ideally you will want to keep your laptop charged when it is inside the sleeve and for this you will need a zip which opens from the corner allowing for the charging cable to feed inside and therefore allowing you to charge the laptop while not using it.
How To Measure Your Laptop For a Laptop Sleeve
This is a great question and one that is important unless you want to buy a sleeve that is too small for your laptop.
There are plenty of videos on YouTube which will show you how to measure your laptop screen but basically all you need to do is to measure your laptop from corner to corner and the depth of it.
Laptop sleeves are usually advertised for their screen size so go ahead and measure your screen size from corner to corner (I also recommend measuring your actual laptop itself so you have a clear idea) and don't forget to measure your height.
Some older laptops can be quite thick and you will have to bear this is mind when you make your purchase.
If you ever unsure then it is wise to ask before you buy, also check out what other people have already asked if this is an option or simply do a Google search for the answer. Failing that, get on the phone and ask the question directly to the seller who will be able to help you.
Can You Wash A Laptop Sleeve?
We've looked at quite a few manufacturers to get this information and the simple is no it is not recommended in most instances but you really should check out the label or instructions that came with your sleeve in the first instance.
The advice given by most manufacturers is not to put it into the washing machine but use other cleaning methods, be careful about using any harsh chemicals or abrasives as these may damage the case.
It's probably best just to use some warm water and try and dab any marks of the case. One thing to remember is the damage you are trying to remove from that sleeve would have otherwise have happened to your laptop!
People also ask:
Are Laptop Sleeves Necessary?
No they're not but accidents do and will continue to happen and if you want your laptop to stay as protected as possible it's a worthwhile investment. Your precious laptop will stand a much better chance of staying protected if it also is places inside your laptop bag once it is in the sleeve itself.
What is the Point of a Laptop Sleeve?
They are an alternative storage and transportation method to a laptop bag or standard bag. Because most damage occurs when they are carted about this is when you need to protect them the most and so a laptop sleeve is there to offer that extra peace of mind knowing you're doing everything you can to protect your laptop.
What Laptop Sleeve Should I Buy?
It depends on your needs. Most people buy a laptop sleeve because it adds protection to your laptop but now you don't need to lug a bag around. they are light in weight but also very stylish and there are a huge number of styles and designed for you to choose from. Tekmoz are not an ecommerce store we're here to help you choose the right equipment and fix it when it goes wrong so our advice is to check out the range that's out there and refer back to our advice when needed.